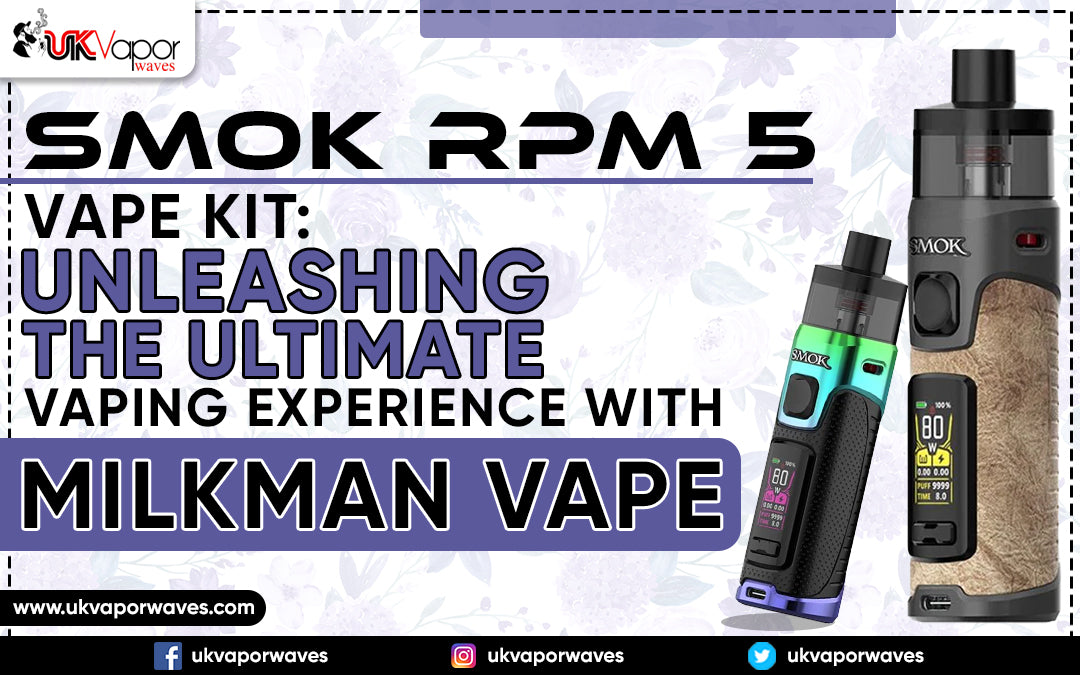 Smok RPM 5 Vape Kit: Unleashing The Ultimate Vaping Experience With Milkman Vape
Due to the increasing popularity of vaping as a feasible alternative to smoking, there is now a vast array of devices accessible to enthusiasts. The Smok Rpm 5 Vape Kit is an innovative device that perfectly complements the Milkman Vaporizer brand of e-liquids. Combining these three factors will surely please any vaper who enjoys sophisticated tastes, cutting-edge innovation, and pleasing results. This essay will examine the Smok Vape Kit and the Milkman Vaporizer in detail, focusing on the aspects that have made them popular among vapers.
Features Of The Smok RPM 5 Vape Kit
With its 2000mAh battery, 0.96-inch TFT color screen, and wattage output range of 5-80W, the Smok Rpm 5 Vape Kit is a powerful and portable pod system. It has a 6.5ml pod refillable with your preferred e-liquid and two RPM 3 mesh coils. The RPM 5 also features a stepless airflow control system for adjusting the intensity of your hits. Some highlights of the Smok Vape Kit include:
Compact and Ergonomic Design:
Slim and portable, the Smok Rpm 5 Vape Kit is ideal for any vaper on the go. Its comfortable design makes it effortless to grasp for extended durations and is perfect for extended vaping sessions. The gadget's elegant, glossy look makes it more visually appealing.
Large Capacity Batteries:
The Smok RPM 5's internal 2000mAh battery allows for extended vaping times between charges. The battery life is sufficient for long periods of use for both new and experienced vapers.
Simple and Straightforward to Use:
The RPM 5's 0.96-inch color display gives you a wealth of data at a glance. Vapers can easily adjust their vaping experience to their liking thanks to the intuitive interface.
Power Output Variability:
The Smok RPM 5's variable wattage output from 5W to 80W makes it an excellent choice for users of all skill levels. The wattage may be adjusted to the user's liking, allowing for customized vapor output and taste strength.
Features Of The Milkman Vape
Popular American e-liquid producer Milkman Vape was founded in Los Angeles. The brand's 50ml shortfill bottles accommodate a 10ml nic shot and feature dessert-inspired tastes like strawberry pastry and fresh milk. Milkman Vaporizer is famous for its silky blends and delicious flavors. Some of Milkman Vaporizer's most appealing qualities are as follows:
Beautifully Balanced Flavors:
The Milkman Vape brand is renowned for having unparalleled taste combinations. Every e-liquid in the collection, from Milkman's Original to the fruity and refreshing flavor of Strudelhaus, is expertly created to provide a gratifying and pleasurable vaping experience.
High-Quality Ingredients:
Milkman Vape offers superior e-liquids created from the utmost quality materials. Each flavor is skillfully constructed, utilizing solely the utmost quality components to deliver a gratifying and delectable encounter with each inhalation.
VG/PG Ratio:
Flavor seekers and cloud chasers alike will appreciate the Milkman Vape line's consistent high VG/low PG ratio. The greater VG concentration improves vapor production, while the PG amplifies flavor delivery.
Nicotine Availability:
Milkman has e-liquids available in varying nicotine concentrations to cater to a wide range of customers. The Milkman Vaporizer range provides options for all vapers, including those who want nicotine-free or greater concentrations.
Why Do They Form The Perfect Combination?
If you're looking for a premium vaping experience, go no further than the Smok Rpm 5 Vape Kit and e-liquids by Milkman Vaporizer. The RPM 5's smart IQ-R chip provides quick firing times, improving flavor delivery from Milkman Vaporizer's high-quality e-liquids.
In addition, the RPM 5's adaptability, with its variable wattage and stylish design, pairs well with Milkman Vaporizer's extensive flavor selection. Vapers can adjust the wattage of their Milkman Vape to reach the sweet spot that brings out the best in their preferred tastes.
Conclusion
The Smok Vape Kit and e-liquids from
Milkman Vape
have revolutionized the vaping industry. With its cutting-edge features and comfortable design, the RPM 5 is a great way to experience the delicious Milkman Vaporizer flavors. Whether new to vaping or an old pro, you're in for a tasty, efficient, and forward-thinking experience with this dynamic combination.