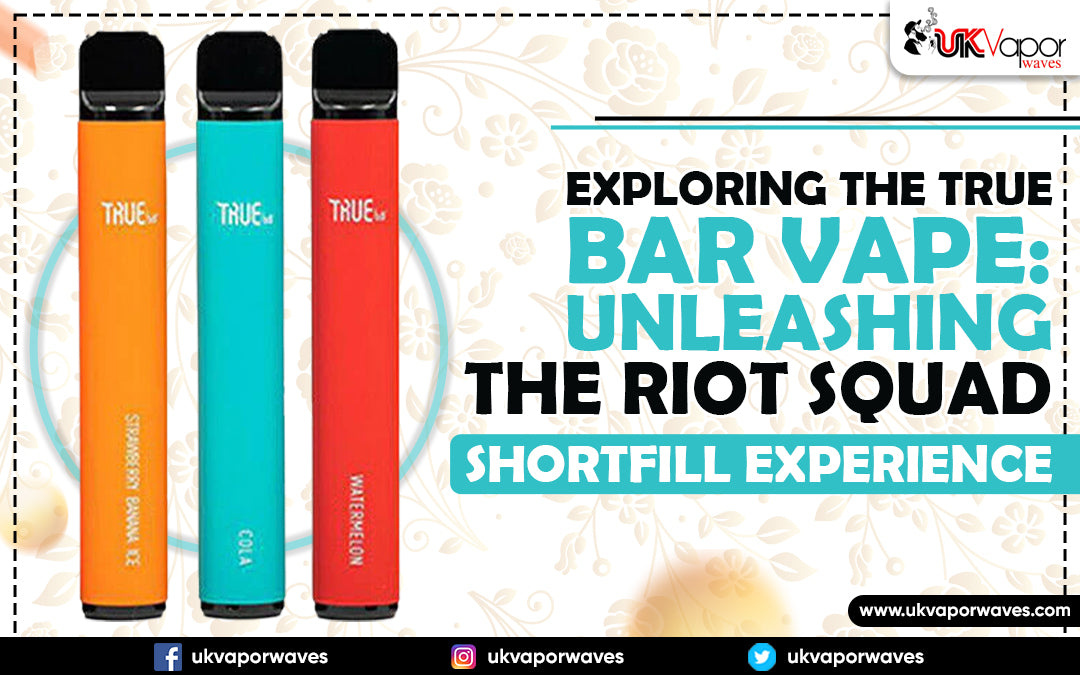 Exploring The True Bar Vape: Unleashing The Riot Squad Shortfill Experience
Vaping is a rapidly developing industry where fans always seek something new and exciting to try. The True Bar Vape, especially with the tempting Riot Shortfill e-liquid, is one such device that has earned great notice in recent years. This formidable combination is set to revolutionize the vaping experience by providing users of all skill levels with a comprehensive set of tools. This article will examine why the True Bar and the Riot Shortfill have become so popular with vapors worldwide by focusing on their most distinctive qualities.
True Bar: Leading The Vaping World
When it comes to vaporizers, many people turn to True Bar Vapes because of the quality of their goods. True Bar Vapes offers a variety of flavors and nicotine concentrations to offer a pleasurable and rewarding vaping experience. Their goods are made with care and accuracy, guaranteeing a consistent and pleasurable experience with every inhale. True Bar Vape is a go-to for experienced and novice vapers because of its quality and durability.
Comfortable And Lightweight Construction
Users who value convenience and ease of use will appreciate True Bar's modern and ergonomic design. Its tiny dimensions and ergonomically designed shape make it a breeze to carry around. The True Bar Vape is convenient because it can be used anywhere, in the comfort of your own home or while on the go.
User-Friendly Operation
The True Bar's simplicity of usage is one of its most notable qualities. It's made for vapers of any skill level, from newbies to veterans. The device has a straightforward firing mechanism that activates with a single click. You can easily keep tabs on your vaping session thanks to the device's bright LED indicator, which provides real-time feedback on battery life and different settings.
Batteries That Last A Long Time
No vaper enjoys being tied to their charger at all times. The True Bar Vape has a robust, long-lasting battery for uninterrupted vaping sessions. The device charges quickly, so there is less waiting and more time to enjoy a worry-free vaping experience.
Modifiable Power Levels That
When it comes to their vaporizing sessions, vapers are picky. The True Bar Vape is sensitive to this fact and provides a range of adjustable output levels. You may easily alter the strength to fit your preference, whether a smooth and gentle draw or a harsher throat punch. The ability to personalize one's vaping experience is a big draw for many users.
Riot Squad Shortfill: An Explosion Of Flavor
The True Bar is brought to life when filled with Riot Squad Shortfill e-liquid. Regarding e-liquids, Riot Squad is unrivaled, and their Shortfill line is no exception. Each flavor of Riot Shortfill is a guaranteed flavor bomb that will have your taste buds begging for more.
Larger Than Average Bottles
The bottles of Riot Squad Shortfill e-liquids are usually at least 60ml in capacity. Because of the larger bottle size, vapers may easily add nicotine shots to achieve the desired nicotine level. Enjoy your favorite flavors longer without worrying about running out of Riot Shortfills.
High Vegetable Glycerin Content For Smooth Cloud Generation
The VG (Vegetable Glycerin) level of the Riot Squad Shortfill series is notoriously high, typically between 70 and 80 percent. Vapers who enjoy thick clouds of tasty vapor often choose high VG e-liquids. Cloud gazers and fans of dense vaporization will appreciate this quality immensely.
Conclusion
Vaping with the True Bar with Riot Squad Shortfill e-liquids is an enjoyable and exciting experience. The True Bar meets the needs of vapers of all skill levels thanks to its ergonomic design, simple operation, and adjustable power settings. Meanwhile, the wide variety of flavors available in Riot Shortfills and the high VG concentration guarantee a satisfying and cloudy vaping experience. Whether new to vaping or have been doing it for years, you should try the Riot Shortfill with the True Bar Vaporizers.