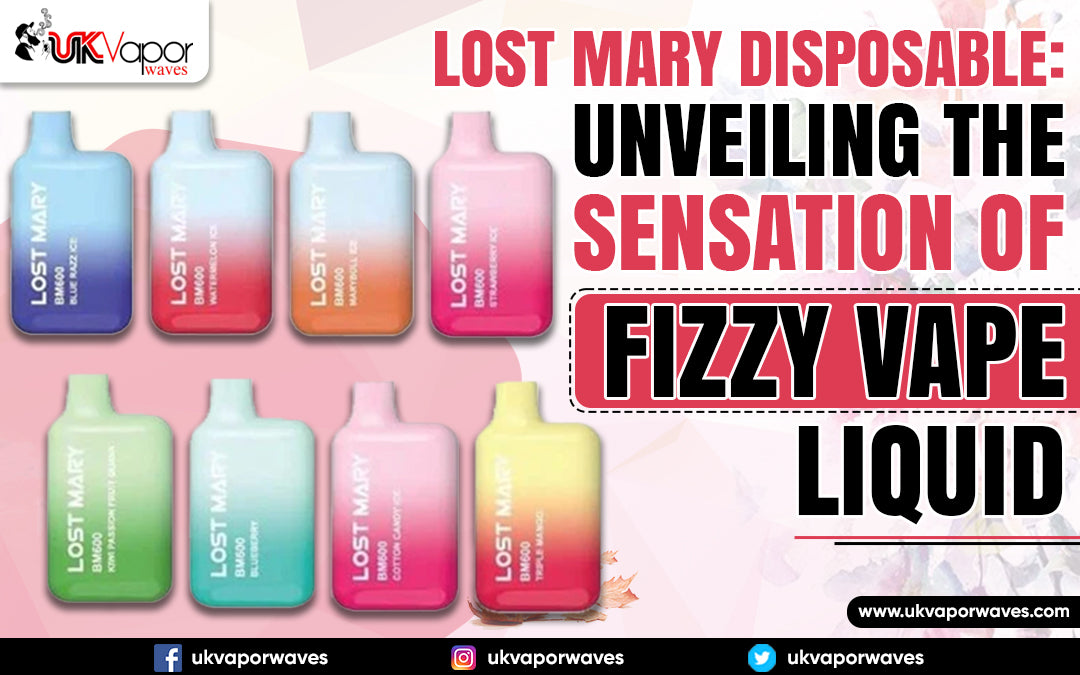 Lost Mary Disposable: Unveiling The Sensation Of Fizzy Vape Liquid
The vaping business has witnessed a substantial increase in popularity in recent years, which has led to the introduction of a wide variety of novel products into the market. One of them, the Lost Mary Disposable, is particularly well-known for its Fizzy Vape juice and has attracted the attention of vape fans worldwide. This one-of-a-kind disposable vape gadget's extraordinary flavor profile and unmatched convenience have elevated the entire vaping experience to an entirely new level. In this essay, we will dig into the enthralling realm of Lost Mary vapes and investigate the mesmerizing charm of its Fizzy Vape juice.
The Lost Mary Disposable Experience
The Lost Mary Disposable is an ultra-sleek and portable vaporizing device that prioritizes ease of use and convenience of portability. Because of its intuitive interface, it is suitable for usage not only by inexperienced but also by more seasoned vapers. Each disposable vape comes pre-filled with Fizzy Vape juice, a fantastic mixture of premium ingredients that guarantees an exceptional sensory experience.
The Flavorful Symphony Of Fizzy Vape Liquid
Fizzy Vape Liquid's unique flavor is what sets it apart from the competition. Often combining fruity tones with a lovely fizziness to simulate the experience of sipping a refreshing soda, this one-of-a-kind e-liquid combines a wide range of flavors. The flavors available in the Fizzy Vape juice collection span from tangy citrus bursts to sweet berries and exotic combinations.
The delightful fizziness is achieved by mixing a small amount of menthol or cooling ingredients with the other flavorings. The e-liquid is atomized as the user inhales, unleashing the device's rich flavors and a light, effervescent sensation that playfully dances on the tongue. Because of this sensation, vaping with Lost Mary Disposable is a more stimulating experience than with traditional e-liquids.
New Definition Of Convenience
The unparalleled portability of Lost Mary Disposable stands out even more than its delicious taste. It's convenient because it's a one-time-use gadget that never needs fixing, recharging, or more. Each device is shipped fully charged and stocked with e-juice so that users may begin indulging in their preferred tastes immediately upon unboxing. When the e-liquid is gone, consumers may safely throw away the device, making it a no-hassle and eco-friendly option.
Portability And Discreetness
The allure of Lost Mary Disposable is enhanced by the fact that it has a streamlined and delicate appearance. As a result of its compact size, it is an excellent traveling companion for vapers who are constantly on the move. Users can enjoy a speedy vape session without drawing unwanted attention to themselves, thanks to the device's diminutive size, which guarantees discretion.
Nicotine Concentration Regulations
Lost Mary Disposable offers several different nicotine concentrations to meet the needs of all types of vapers. Vapers can select their preferred nicotine strength from zero to several hundred milligrams per milliliter. This adaptability makes the device ideal for users who wish to reduce their nicotine consumption over time.
Safety And Quality
Lost Mary Disposable recognizes the importance of a risk-free vaping experience. Multiple safeguards, including overheating, short-circuit, and low-voltage detection, are included in the device to keep users safe when vaping. The ingredients in Fizzy Vape juice are of the highest quality and purchased from dependable vendors.
Conclusion
Lost Mary Vapes and the
Fizzy Vape Liquid
are game-changers in the vaping business, entrancing consumers with its tasty symphony and user-friendly format. This disposable vape gadget has risen to the top of the market thanks to its wonderful fizziness and various delicious flavors. Its convenience, anonymity, and security make it an attractive option for vaping fans everywhere. As the vaping business develops, Lost Mary vapes lead the way in creativity and sensory enjoyment, tempting users to experience something that is truly out of the usual.