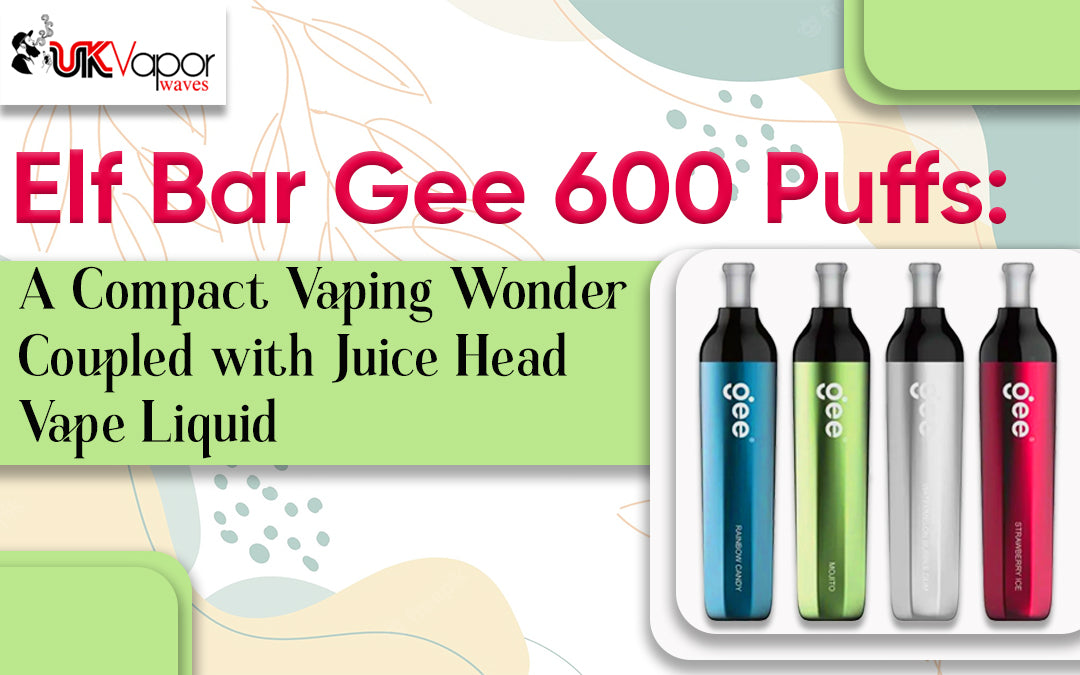 Elf Bar Gee 600 Puffs: A Compact Vaping Wonder Coupled with Juice Head Vape Liquid
The need for a smoke-free alternative to conventional cigarettes has contributed to the industry's meteoric rise in recent years. Modern vaping devices have come a long way, providing many choices in terms of portability, flavor, and convenience for vaping lovers. The Elf Bar Gee 600 Puffs is a portable vaping marvel that pairs wonderfully with the tasty Juice Head e-Liquid. This piece examines the items' features and advantages, showing why they've become popular among vapers.
The Elf Bar Gee 600 Puffs: Superb In Convenience And Effectiveness
One such disposable gadget is the Elf Bar Gee 600 Puffs, which prioritizes ease of use and portability. Its portable, lightweight construction makes it a top choice for vapers who value convenience. Because it doesn't require charging, refilling, or complicated settings, it's great for both newcomers and seasoned vapers.
The Elf Bar Gee is built around a pre-filled pod of e-liquid that can hold 2.8 milliliters of juice. With this large capacity, you may enjoy vaping for around 600 puffs, making it last far longer than disposable e-cigarettes. Those who frequently travel or do not like carrying extra e-liquid bottles will significantly appreciate this function.
The Elf Bar Gee is renowned for its extensive flavor options. There is a flavor for everyone, whether they prefer the mildness of fruits, the strength of tobacco, or the richness of sweets. From tried-and-true favorites like Cool Mint and Mango to novel concoctions like Strawberry Ice Cream and Blue Razz Lemonade, the Elf Bar Gee has something for everyone.
Juice Head Vape Liquid: A Flavor Bomb
Premium e-liquids, which often include an explosion of flavors, are used to compliment the Elf Bar Gee's exceptional performance. Juice Head Vape Liquid is a well-known manufacturer of high-quality e-liquids known for its fruity flavors.
Using only the finest ingredients is one of the many things that sets Juice Head apart from the competition. Each e-liquid is handcrafted with a unique combination of natural and artificial flavorings that capture the essence of seasonal fruits. Vapers will be begging for more of Juice Head's original flavors, which capture the true essence of fruits like apples, watermelons, and lemons.
Also, for those who want a higher or lower nicotine content, Juice Head provides that option. Juice Head has something for every kind of vapor, from those who want the flavor without the jitters of nicotine to former smokers who crave a stronger nicotine impact.
The Perfect Pairing Like Peanut Butter And Jelly
Vapers have found nirvana in the union of Elf Bar Gee and Juice Head Vape Liquid. Vaping is better than ever with the disposable Elf Bar Gee and the rich flavors of Juice Head. Those who are constantly on the go may find this combination to be particularly intriguing. Because of its small form factor, it may be easily carried in a purse or pocket. Users can enjoy continuous vaping over a long time without worrying about running out of juice or needing to charge the device.
In addition, Juice Head's gourmet e-liquids complement the Elf Bar Gee's easy draw and reliable vapor production, making every drag an exciting new experience. There is a wide selection of flavors for vapers, so they never get bored with their pods and always have something to look forward to.
Conclusion
The Elf Bar Gee 600 Puffs with Juice Head eLiquid is the perfect combination of ease, flavor, and contentment. The Elf Bar Gee is a simple, long-lasting vaping device, and Juice Head's premium e-liquids, inspired by fruits, are bursting with flavor. Whether you're a seasoned veteran or just starting, this combination will take your vaping experience to the next level.