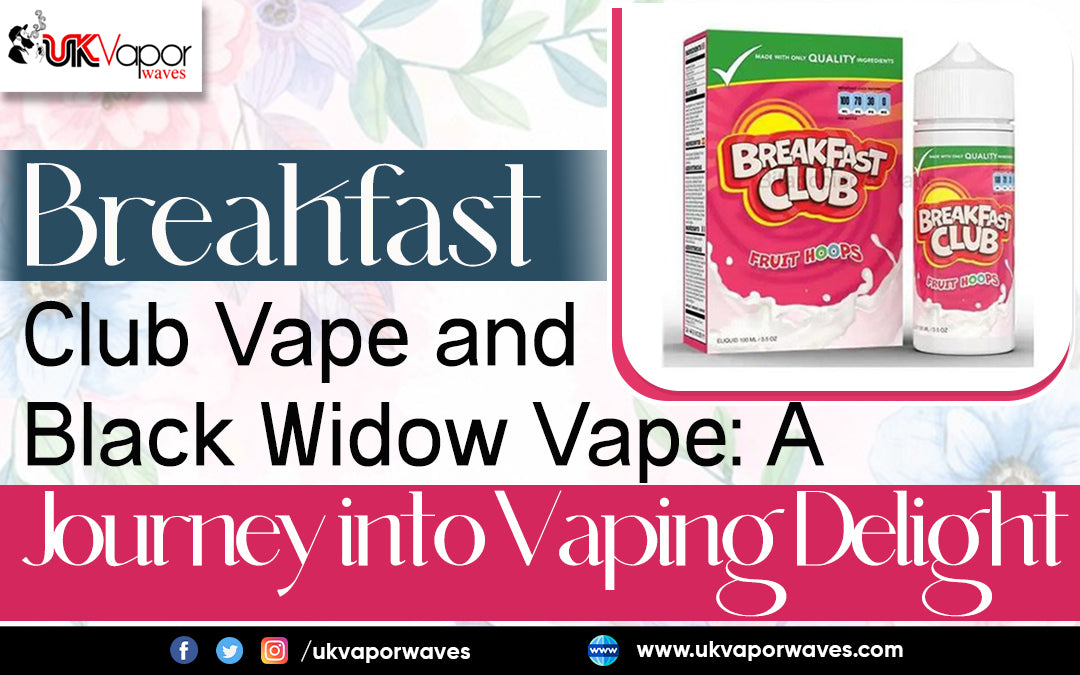 Breakfast Club Vape and Black Widow Vape: A Journey into Vaping Delight
The popularity of e-cigarettes and other vaping products has skyrocketed in recent years, and now consumers may choose from an overwhelming number of different brands and flavors. Black Widow and Breakfast Club Vape are two of the most prominent brands in this industry. Vapers from all walks of life are drawn to both brands due to their distinctive flavor profiles and unwavering dedication to quality. This article delves into the vaping subcultures of Breakfast Club and Black Widow, examining their histories, product lines, and fan bases.
Breakfast Club Vape: Having Fun While Vaping in the Morning
The e-liquids from Breakfast Club Vape are known for tasting much like the breakfast buffet you remember from your childhood. Their e-liquids are crafted to evoke pleasant feelings and thoughts associated with a leisurely breakfast enjoyed in happier times. Breakfast Club has captured the essence of breakfast foods like pancakes in maple syrup and fruity cereal in cold milk.
The "Pancake Man" e-juice is one of their most popular products, and it tastes just like pancakes with butter, syrup, and fresh strawberries. The "Froops" blend is another fan favorite; it tastes like a dish of fruit loops drenched in sweet milk. Breakfast Club Vape has built a devoted fanbase because of its expertly designed flavors, and they've risen to prominence in the vaping industry thanks to its dedication to using only the finest ingredients.
Black Widow Vape: Accept Your Shadow Side
Black Widow Vape's deep and enigmatic flavors starkly contrast with Breakfast Vape's lighthearted approach. Black Widow Vape's e-liquids are for the adventurous vaper because of their daring, dark, and occasionally ominous flavor profiles.
Black Widow Vape has a unique flavor profile; the "Blackcurrant Menthol" e-liquid powerfully represents that. This e-juice is a complex and stimulating blend of the rich flavor of ripe blackcurrants with the cool tingle of menthol. The "Dark Chocolate Tobacco" mix is another top pick; it's enticing because it combines the sweetness of dark chocolate with the depth of tobacco.
Warranty of Quality: Characteristics of Both Brands
Both Breakfast Club and Black Widow Vape produce only the finest vaporization goods. Both companies use high-quality production methods and ingredients from dependable vendors. They follow rigorous laboratory procedures, using cutting-edge equipment, to produce their e-liquids in sterile environments.
In addition, both companies consistently test and inspect their products to ensure they live up to the high standards of their clients. Their steadfast commitment to quality control is a crucial reason customers keep returning for more.
Creating a Community: Communication with Vapers
Vaping the Breakfast Club and a Black Widow Vape knows how important it is to interact with their customers and let them feel like part of a community. They engage with their target demographic at vape conventions, live events, and online discussion forums, where they receive constructive criticism.
They've done this by running contests, offering freebies, and other forms of interactive marketing to bring together like-minded vapers enthusiastic about their goods. By engaging with vapers as a community, businesses can better understand their customers' needs and adapt their products accordingly, increasing brand loyalty.
Conclusion
Both Breakfast Club and Black Widow Vape have established themselves as compelling and original names in the rapidly growing vaping industry. Black Widow appeals to people with an appetite for the mysterious and daring, in contrast to Breakfast Vape's breakfast-themed flavors, which evoke a sense of nostalgia and playfulness.
While their flavor profiles differ, both businesses provide consumers with premium e-liquids made using exacting standards in production and community outreach. Whether you're looking for a soothing morning treat or a daring dive into the depths of vaping delights, both Black Widow and Breakfast Club Vape will not disappoint. The choice is yours: these two well-known manufacturers offer a wealth of vaping pleasure.