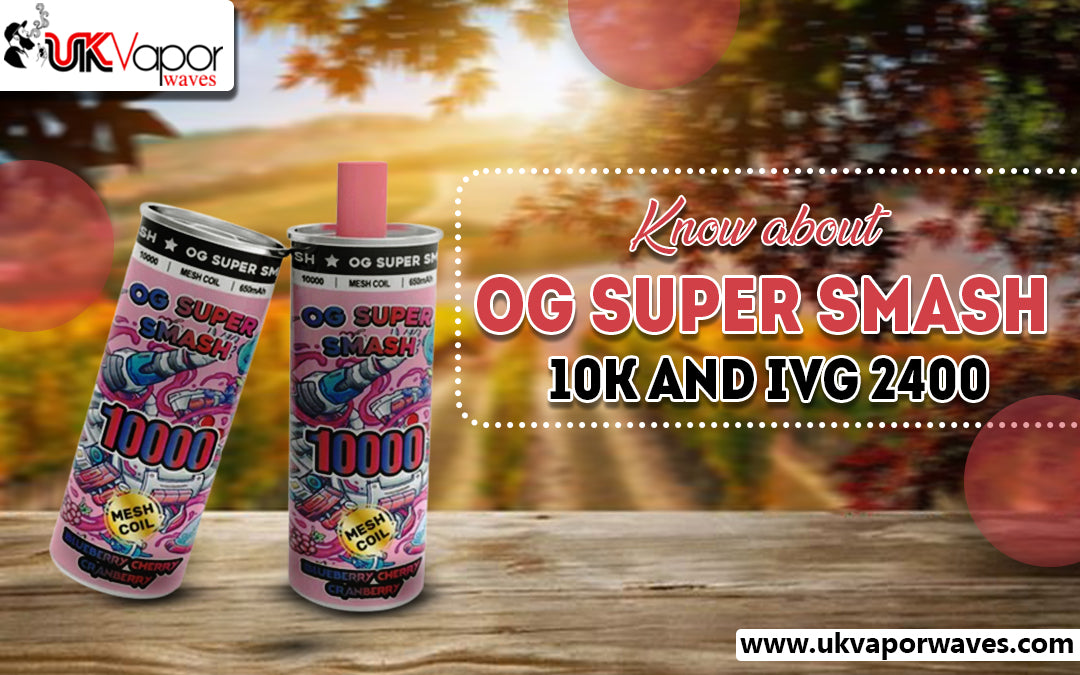 Know about OG Super Smash 10k and IVG 2400
The OG Super Smash 10000 is an innovative vaporizer that combines portability and high-quality vapour production. Its one-of-a-kind design, which resembles a miniature soda can and features a flip-out rubber mouthpiece, makes for an exceptional vaping encounter. The two-coil system of the Og super smash 10k is one of its defining characteristics since it allows for increased flavour production. This means that you'll be able to enjoy your vaping sessions to the fullest because each puff will be bursting with flavour.
Prices That Work With Any Spending Plan
Single: One Original Super Smash 10000 device may be purchased for £11.89.
Pack of 2: You may save money by getting a two-pack of Og super smash 10k devices instead of buying them singly for £21.89 each.
Pack of 5: Save money by purchasing five OG Smash 10,000 devices at once for just £50.89.
Pack of 10: If you want to save money per unit, buying a box of 10 OG Smash 10k devices for £90.75 is the best option.
Improve your puffing skills with OG Smash 10,000
Impressive Puff Count
With the Og super smash 10k, you may enjoy up to 10,000 puffs without worrying about recharging or refilling your device.
Rechargeable 650mAH Power Source
The device has a built-in 650 mAh battery and can be charged via USB Type-C, allowing uninterrupted vaping sessions.
Choices of Many Tastes
There's a huge variety of tastes to choose from, so everyone can find something they like. Every palate may be accommodated, with flavours ranging from sweet to savoury to typical tobacco.
Mesh Coil Pre-Filled Pod
Each Og super smash 10k comes with a 20ml pod that has a mesh coil already installed. The design ensures maximum flavour transfer and a refined vaporizing encounter. 
Conveniently Small and Trendy
The OG Smash 10k is highly portable for vaping due to its small size. Its modern aesthetic elevates even the most basic vaping setup.
Draw-Activation Firing Mechanism
The device has a draw-activated firing mechanism that makes buttons superfluous. The device is activated by taking a breath through it, making vaping easy and hassle-free.
Nicotine Strength
The Og super smash 10k provides a pleasant nicotine dose with its 20mg (2%) nicotine concentration.
Flavour connoisseurs will find the OG Smash 10k the perfect vaping companion thanks to its high puff count, long battery life, wide variety of flavours, and user-friendly design.
IVG 2400 Review
The IVG 2400 includes a 1500 mAh battery and four 2 ml pods filled with 20 mg (2%) nic salt E-liquid, as seen in this review. Load all four pods into the device, close the lid, and start vaping. When one pod is empty, you can easily switch to the next by rotating the chamber and the mouthpiece.
The IVG 2400 is more cost-effective than purchasing four high-end disposable vaporizers at £12.99 each or through the Mix & Match 2 for £25. Plus, compared to utilizing four separate disposables, this option is better for the environment because less plastic and battery waste is produced.
The IVG 2400 comes in 26 different flavours plus four limited editions, each including a sampler pack of four different pod flavours.
Conclusion
Check out the IVG 2400 disposable and Og Super Smash 10k if you're a current smoker or a throwaway vaper. Compared to regular freebase E-Liquids, the nicotine release from nic salts is much faster and smoother. It's simple to operate, produces excellent flavour, and, despite its size, doesn't get in the way as you vape.