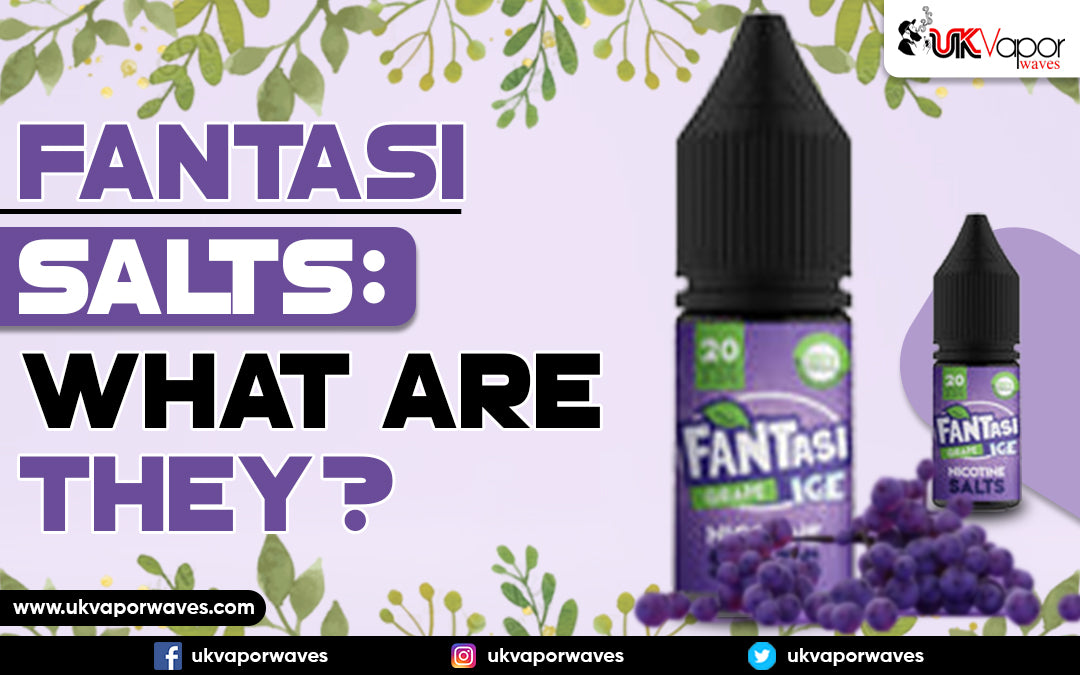 Fantasi Salts: What Are They?
The tobacco leaf has an in-built system for producing nicotine salt. E-liquids containing nicotine salts are preferred because the nicotine in them is absorbed more quickly than in freebase nicotine. Many smokers prefer nicotine salts because they are easier on the throat than freebase nicotine. Many people find that more excellent smoothness and accelerated nicotine delivery enhances their Fantasi Salts vaping experience. This may be the solution if you need a more significant dose of nicotine but find freebase nicotine too harsh. To get the same "throat hit," consumers may choose nicotine salts over freebase nicotine while vaping.
What Do You Think About Nicotine Salts?
First, your current nicotine dosage and how you feel while taking it are essential considerations. It will help if you continue utilizing the same low dose that has worked for you. It may be worthwhile to experiment with nicotine salts if you feel like you need more nicotine but can't manage the harshness. It would help to experiment with several brands and dosages to find what works best.
First, the VG/PG split in Fantasi Salts is a perfect 50/50. Second, you can only get them in 10 and 20mg, so they're ideal for mouth-to-lung and pod system inhalers. However, sub-ohm pod systems are compatible with certain lesser potency nic salts.
Nic Salts and Fantasi Nic Shots
Fantasi Nic Salts are perfect for use with starter kits, vape pens, and vape POD systems and come in a 50/50 mix with either 10 or 20mg of nicotine intensity. Our in-house mixologists painstakingly construct our nic salt line to provide the ideal balance between taste and vapour production. We've spent a lot of time perfecting our formulations to ensure that our nic salts are worthy of the prestigious Fantasy name, and we think we've created the finest nic salt juice available.
In addition to our original Fantasi Nic Salts liquids, we now offer the Fantasi Bar Juice collection, which has various nic salts juices. These highly concentrated liquids are designed to mimic the taste of single-use e-cigarettes, but they come in more budget-friendly 10ml bottles compatible with refillable kits.
Flavours of Fantasi Nic Salts Are Diverse and Extensive
Need a break from reality for a little while? Then, indulge in our refreshing Mango Ice or take a nostalgic journey down memory lane with our classic Cola Ice flavour. Our zesty Lemonade Ice is just what the doctor ordered if you're craving something more stimulating for your taste buds. Our Orange Ice and Asteam 10Ml e liquid will satisfy your need for a cold, refreshing vape with a rush of flavour. 
Fantasi Nic Salts may give you a reviving rush of flavour, a smooth and delicious surprise, or a touch of nostalgia. You can get these in 10ml bottles with either 10mg or 20mg of nicotine, but if you need a more significant quantity, you can always buy a giant bottle of short-fill e-liquid and add nic salts shots.
Conclusion
While disposables taste pleasant, it's no secret that they can add up in cost quickly. True, disposables are great if you're just starting with vaping or going out for the night and need something compact and inexpensive. Still, most vapers eventually upgrade to a refillable device, which is more cost-effective and offers a broader selection of e-liquid flavours like Gummy Bear, Energy Ice, and Blueberry Bubblegum.
We wanted to design a new line, the Fantasi Bar Juice series that would satisfy consumers' needs for both affordability and disposables' great taste. Our selection of 10ml Bar Juice Nic Salts e-liquid includes many of the most popular flavours provided by the best-selling disposables companies, so you can experience all the pleasure of your single-use device in a refillable kit while still getting the robust flavour you get with disposables.